Fondy Idol by The Arc – FondyVision!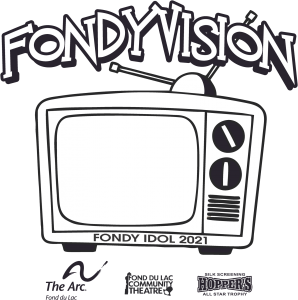 No remote needed to watch ALL your favorite television tunes come to life! Join us for the 2021 Fondy Idol, FondyVision! 
There is no shortage of talent within the client pool at The Arc Fond du Lac. On October 29, that talent will shine brightly at this annual event where you will be taken down a road, reliving TV greats such as Happy Days, The Addams Family, and The Fresh Prince of Bel Air. We're also back in person this year, so you won't want to miss this live production.
Fondy Idol is an annual production, done in partnership with Fond du Lac Community Theatre, showcasing the many talents of the clients of The Arc Fond du Lac. Whether hearing them sing or seeing them dance, attendees are sure to see a performance of a lifetime.
Tickets to this event are available in advance by clicking here or at the door. All proceeds are used to provide programming and experience for those with intellectual and developmental disabilities. Your support means so much!
SPONSORED BY: